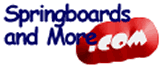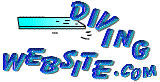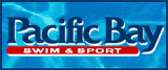 © 2000 -2002 USAdiver.com All Rights Reserved.

Round by Round Review -
Woman's Synchronized Platform
Indiana Diving Duo Leap Ahead

Tonight at the USA Olympic Diving Trials in St. Louis it is a pair of Hoosiers leading the way after the Prelims of the Woman's Synchronized Platform Event. 2000 Olympian, Sara Hildebrand and Cassandra Cardinell were flawless in their execution and near perfect in their Syncro to take the lead over 2000 Olympic Gold Medalist, Laura Wilkinson and Kimiko Soldati 326.97 to 304.02.

In the first round, Sara and Cassandra received the first Syncro 9's of the contest with their 401B/101B off the 10-Meter Platform. Trailing Laura and Kimiko by less than 2 points, the 3rd round proved to be the breakout round for the Indiana Diving Duo when they received 8's from the judges on their Syncro 407C. The meet became a contest between the two teams.

Kimiko and Laura answered back in the 4th round with a 407C of their own for 8's and 74.88 points. The Indiana Duo stepped up to the challenge with a 207C for 7.5's and maintained a 244.35-235.68 lead heading into the final round.

Laura and Kimiko, CTC, final syncro dive, 5253B, went long for 7's and opportunity knocked for Sara and Cassandra. On this day, the Hoosiers were N-SYNC. Their final dive, 5253B, scored 82.62 points and solidified their lead going into the finals Thursday Night.


-Ron Kontura


Round by Round Review

Round 1

Laura and Kimiko's 103B received 9's from the judges a put them in the lead. Sara and Cassandra were solid with the first syncro 9's of the meet with their 401B/101B.

Round 2

Kimiko and Laura kept the lead with their 5331D/5231D for 9's. Sara and Cassandra answered with a 103B for 9's as well. Nicole Pohorenec, Longhorn Diving, and Emily Bouck, Team Orlando, remained consistent in 3rd place with their 301B for 7,5's.

Round 3

The breakout round for Sara and Cassandra. Their 407C scored 8's in syncro and moved them into the lead 172.08 to 160.80. Nicole and Emily's 5253D scored well with 7.5's for syncro.

Round 4

Kimiko and Laura answered back with a 407C that scored 8's and put pressure on the Indiana Duo. Sara and Cassandra answered with 207C for 7's and kept them in the lead 244.35-235.68.

Round 5

Laura and Kimiko's 5253B was a little off receiving 6's and 7's from the judges. Sara and Cassandra remained calm and steady and "RIPPED" their final dive of the evening, a 5253B, for 8's. This proved to be the highest scoring dive of the evening, 82.62 points.