FOXSports.com U.S. Olympic diving team profile

Jun 15, 2000 8:55 a.m. ET

FOXSports.com

After failing to medal in the traditional diving disciplines at the most recent world championships in 1998 and the Sydney test event earlier this year, America's diving team faced a bleak future in Sydney.
But the forecast brightened at the U.S. Olympic Trials when diving observers began to compare 21-year old Mark Ruiz to Olympic legend Greg Louganis as Ruiz became the first U.S. diver to qualify in both the three-meter springboard and the 10-meter platform events since Greg Louganis did in 1988 and 1984. Louganis swept the diving events at both Olympic Games.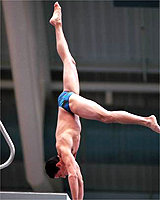 Otto Greule Jr./Allsport


Mark Ruiz prepares to dive at the U.S. Olympic Diving Trials.
Ruiz started diving in Puerto Rico when he was nine and continued diving after moving to Orlando, Florida, at the age of twelve. Ruiz will be joined by another first time Olympian on springboard, Troy Dumais, who overcame kidney stones the morning of the Olympic Trials final to make the team. David Pichler made his second straight Olympic team on platform.
Although he won both events at the trials, Ruiz will have some stiff competition when he gets to Sydney. Dmitry Sautin of Russia was favored to sweep the diving events in Atlanta, but he only won gold on the platform. Since Atlanta, Sautin has won three gold medals on springboard (1997 European championships, 1997 World Cup and the 1998 worlds) and two on platform (1997 World Cup and 1998 worlds). Tian Liang of China will be another platform medal contender. Liang finished behind Sautin at the 1998 world championships and then won the 1999 World Cup, which Sautin missed with chronic back pain.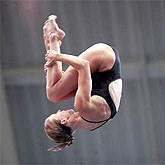 Otto Greule Jr./Allsport


Laura Wilkinson does a flip off the 10-meter platform at the U.S. Olympic Diving Trials.
On the women's side 21-year-old Chinese diver Fu Mingxia, the defending gold medalist in both the three-meter springboard and 10-meter platform, came out of retirement for the Sydney Games. At the age of 13, she won gold at the 1992 Barcelona Games in the 10-meter platform. Mingxia has been diving twice as long as American diver Laura Wilkinson. Wilkinson, 22, started out in gymnastics but switched over to diving when she was 16. She won the 1998 Goodwill Games platform gold medal. Another platform medal contender is Sang Xue of China, who won gold at the 1999 World Cup.
First time Olympian Sara Reiling joins Wilkinson on platform while 1996 Olympian Jenny Keim joins first-timer Michelle Davison. Synchronized diving makes its Olympic debut as a medal event at the 2000 Sydney Games. The American platform and springboard divers will make up the two-person synchronized diving teams in men's springboard and platform, as well as women's platform. The U.S. women did not qualify in three-meter springboard for synchronized diving.